So. First time posting here, and couldn't even whip up anything for April Fool's (I really wanted to, but then work happened.) But I finished a drawing I'd been meaning to do for months, and figured that hey, since I haven't really pimped my doodles anywhere in the LJ-based SPN fandom (save for posting one or two last fall... somewhere...) and my drawings tend to lean towards cute and silly rather than gloom and doom, they should fit in here just fine. :)


Title:
angeltrap's Art Dump, aka Sam and Dean Do Funny and/or Weird Things, Occasionally ft. Cas
Rating: G
Comments: Lectures do wonderful things to my creativity, and essays waiting to be written do the strangest things to my ability to transform pencil-on-notepaper into something that can be called, for the lack of a better word, Photoshopped. Starting with the oldest: Castiel trying his hand at the dark art of getting undressed. Drawn during Spanish, because I know you're all interested!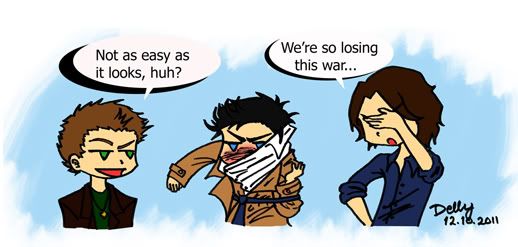 Title: Paint It Blue
Comments: Totally copy+pasted from DA:

Cas thinks Dean deserves some wings too, and sets out to do something about it like a heavenly Edvard Munch! Dean's blissfully ignorant until Sam comes in and has the semi-angelic duo do some heavy-duty cleaning before the hostel management can get on their case.

Drawn during linguistics because it was my birthday and I decided I was allowed to slack!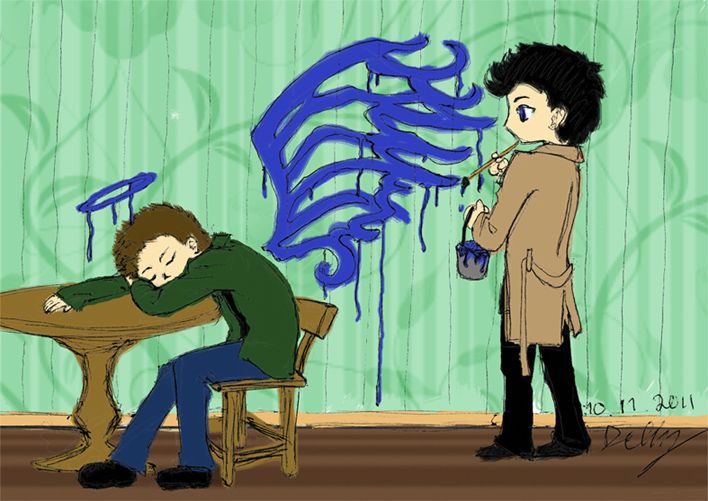 Title: Kidnap the Sandy Claws
Comments: A Christmas card to my bff. Me struggling with Dean's hair big time. :D Please tell me you can read my handwriting...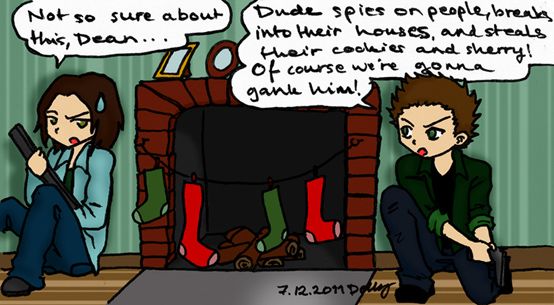 Title: Sk8ing Lyk a Pro (because I'm just that good with titles...)
Comments: This one was actually drawn for
beth_summer's prompt at
hoodie_time, so technically it's based on a hurt/comfort prompt. (I posted it and the one above there, too, for a moment, so you may have seen them; then my tech wizard instincts kicked in and I managed to delete the whole post. :D Was way too embarrassed to post again...) I went for the fluffiest end of the h/c scale here, so I figured it wasn't too gloomy to be posted here; feel free to disagree if you wish. :D I'm not all that happy with a lot of things in this pic, but... I'm actually sort of proud of my Sam('s hair) and didn't want to leave it gathering dust in my folders.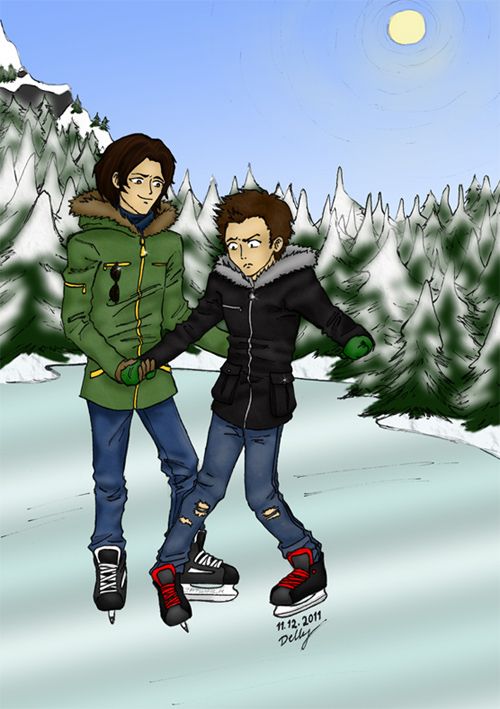 Title: A Couple of Winchesters: A SPN/Dracula crossover
Comments: Ever since I read Morris talk about taking some Winchesters with them when they went after Dracula, I knew I had to draw this. As a bonus: the Winchesters meeting the first hunter recorded in fiction, Professor van Helsing!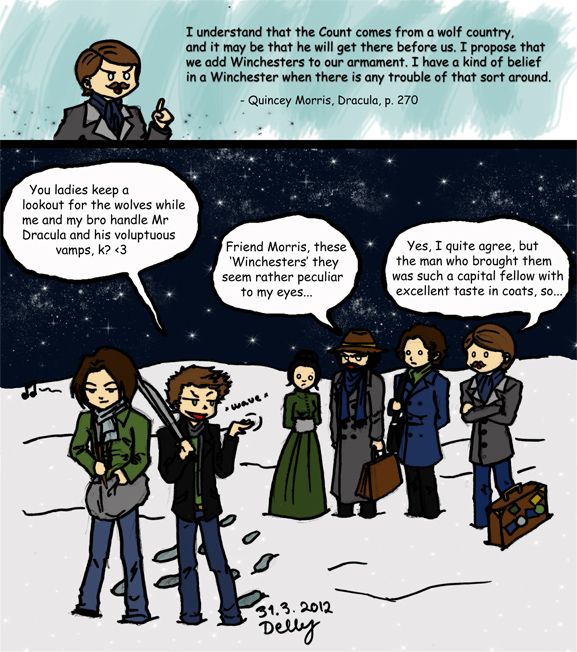 Morris doesn't need a nose because he's got a wormstache. My van Helsing is probably Bobby's distant great-grandpa, and Mina and Jonathan are just politely confused because they're too well-behaved to voice their doubts about the Winchester brothers. And Dean is way too cool to zip his coat up or wear his scarf properly.




Please tell me what you think! :) Feel free to check out my DeviantArt account as well, though the only extra SPN-related thing I currently have there is a meme. Hope I got the tags (and everything else!) right, too. :D