Hello again!

Welcome to the SPN_Big Pretzel weekly theme post. Last week we had some awesome entries for Cursed!week, so let's keep the fun rolling with a new theme.

This week's theme is: FOOD

We all know that Dean lives for his cheeseburgers and pie, Sam his organic salads, and Bobby his peach cobbler, but food is more than just fuel for these guys -- it can also be an adventure. Whether it's fic, art, recs, or prompts, this week's theme should provide us all with plenty of food for thought (groan .. I'm sorry, I had to.)

Please feel free to leave some prompts to help feed everyone's imaginations here at this post and if you have an entry you would like to share, post it separately using the 'weekly theme' tag.

And just in case you are hungry for some inspiration, here are a few delicious appetizers to get us started: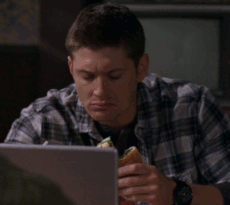 Bon Appetit!